The Duopel membrane, used in Duopel fabrics, is an exclusive waterproof-breathable technology made from thermoplastic polyurethane (TPU). It delivers distinct advantages over other waterproof-breathable materials in use today.
The Duopel membrane is a printable material, and the membrane itself can be produced in various colors.
The Duopel membrane has excellent adhesive properties, and it can be easily laminated to a wide variety of textiles.
The Duopel membrane is eco-friendly. It is fully recyclable and biodegradable, and it can serve as an excellent replacement for the environmentally contentious ePTFE (a.k.a., Teflon)

Duopel fabric is the most balanced waterproof-breathable fabric solution in the industry, with advanced windproof protection thrown in for good measure.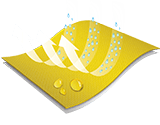 Always dry. Duopel fabric has achieved the industry's standard waterproof rating requirement, which means water stays out and wearers
stay dry.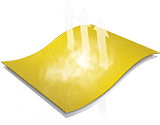 Always comfortable. Duopel fabric allows moisture to pass through quickly and effectively, providing optimal comfort for wearers involved in any activity, at every level of intensity.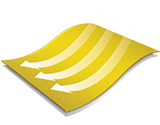 Always the right temperature. Duopel fabric excels at blocking wind, ensuring wearers enjoy consistent comfort at just the right temperature.

Duopel fabrics come in different layering constructions to meet
the needs of different garments.
2-Layer laminate This basic layering system is used to create light Duopel fabrics that are suitable for casual wear.

3-Layer laminate Extra layering with mesh at the base produces Duopel fabrics that are ideal for active sportswear.

2.5-Layer laminate Printed membrane layering creates unique Duopel fabrics that are perfect for fashionable waterproof wear.

Reversed 2.5-Layer laminate Layering with a printed membrane as the face fabric produces stylish Duopel fabrics that are well-suited for reversible, two-way wear.

Duopel fabrics are available for sportswear, lifestyle and fashion.
Duopel Active Multilayer fabric construction for sports applications used under exterme weather conditions, and of course, they come with unlimited textile and membrane choices.
Duopel Urban Simple fabric construction for daily lifestyle wear, with unlimited textile and membrane color possibilities to create sophicated urban style looks.
Duopel Mode Fabric construction with a touch of luxury on textiles for enhanced look and feel. With stylelish prints, colors and finesse to all details, they are aimed to make a fashion statement.